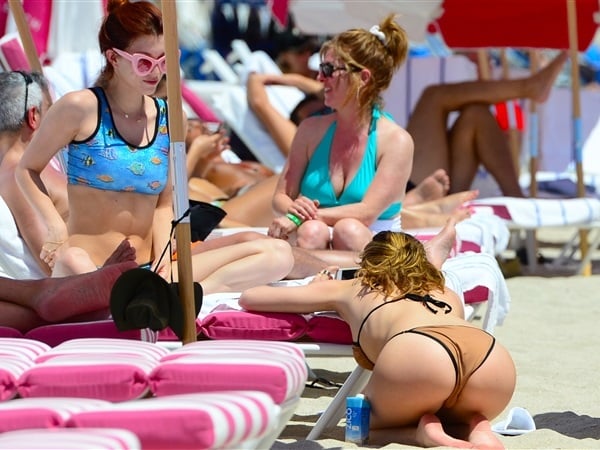 ---
Sisters Bella and Dani Thorne took on sisters Vanessa and Stella Hudgens in a bikini showdown for the ages on Miami Beach in the photos below.
While this sisterly South Florida slut off was certainly momentous for its levels of depravity, it was a one-sided affair as the Thorne sisters put a tremendous whoring beat down on the Hudgens girls.
As you can see in the photos below, Bella and Dani started strong with some hotel room Snapchat selfies, and then continued throwing degenerate bombs on their opponents as they prostituted their nearly nude bodies in tiny soaking wet thong bikinis all over Miami Beach. Bella Thorne especially brought her A-game, and flaunted her tight teen ass repeatedly and to devastating effect.
Vanessa Hudgens' engorged low hanging pussy lips and Stella's fat titties were no match for Bella and Dani's brazen bikini booty display. In fact, Vanessa and Stella were so outshined by the Thornes that they didn't stay on the beach for long, and they made a hasty retreat to their hotel's swimming pool with their unremarkable flabby tails tucked between their frumpy legs.