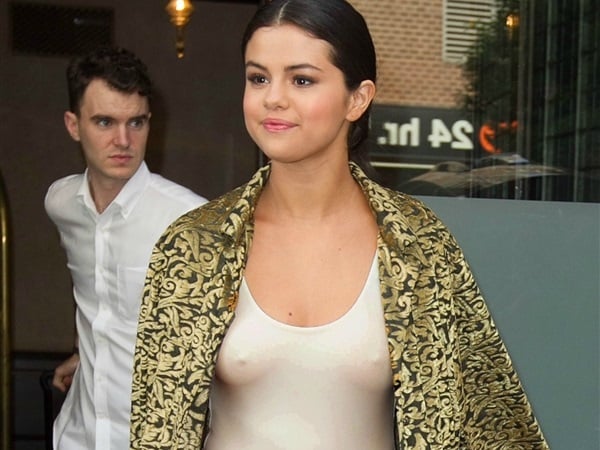 ---
The Selena Gomez nipple parade continues as she once again walks the streets of New York City in a sheer top with no bra on in the photos below.
What the hell does this Mexican skank have against bras? While us Muslims would certainly prefer to see women like Selena in thick black wool burkas (or better yet on the ground crumbled in a heap after a lapidation), we can at least tolerate ones (for now) that wear undergarments and do not just allow their sex organs to be out flapping in the breeze like Selena is doing in these pics.
Yes Selena Gomez has crossed the line with this nonstop nipple barrage. Us Muslims will no longer sit idly by while she continues to offend us with the sight of her hard tit toppers in braless pics. Rest assured that Selena will soon feel the mighty righteous wrath of us powerful Muslims when we issue a fatwa denouncing her and her areola for their blasphemous crimes, and call on all Muslims to take to the streets to shout and furiously fire our AK-47s into the air in protest until we lose our voices and run out of ammo.