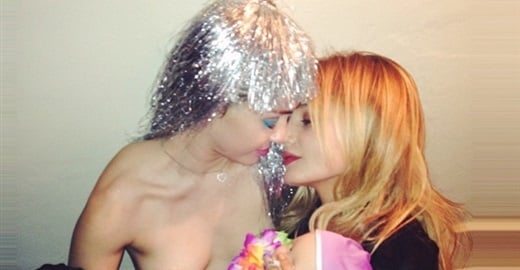 ---
Miley Cyrus stole the show at the annual "Art Basel" art festival in Miami yesterday.
As you can see in the photos below, Miley Cyrus embodied the highest forms of infidel artistry as she flossed her ass with her thong, paraded around her small saggy tits in disco ball pasties, jerked off a phallic shaped bubble machine, and fingered herself on stage.
It comes as no surprise to us righteous Muslims that this depraved Miley Cyrus spectacle is the epitome of heathen culture, for the kuffars are deeply depraved and barbaric people. It will certainly do them some good when Islam conquers the West, and we show them firsthand what true civilized art is. For instance the blood spatter on a stone after it connects with a lecherous whore's head… it is both a profound and deeply moving sight to behold.