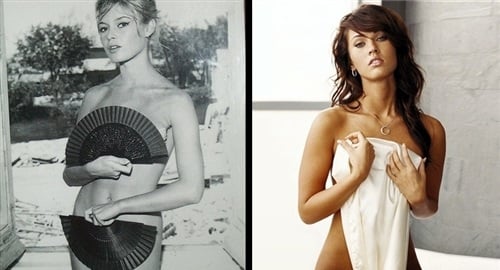 ---
For nearly 2 decades Brigitte Bardot was considered the sexiest woman in the world. An impressive feat that is even more stunning because Brigitte maintained her title in an age before plastic surgery, airbrushing, and Photoshop.
For the past couple years Megan Fox has been the consensus hottest woman in Hollywood, and is no doubt at the peak of her sexiness. However, is Megan Fox hotter in her prime now than Brigitte Bardot was in her day? We are about to find out.
Round 1

Brigitte Bardot pushed the limits of sexiness with extremely risque photos for the times. Bardot was always ready and willing to help men around the world spill their seed, and she seemed to get a perverse enjoyment out of it. How sexy is that?

Megan Fox has not done much that would be considered risque by today's standards. In fact in many instances Megan has been down right dull. Of course in her defense she'd have to spread eagle in with a cucumber in her to get a reaction out of people nowadays.

Advantage: Brigitte Bardot
---
Round 2

Brigitte Bardot basically invented and definitely perfected the staged upskirt picture. Not to mention she is wearing white lace panties in this picture. It does not get more classic sexy than that.

Megan Fox looks great in this picture. The whole I'm pulling down the front of my panties to almost show you my vagina thing is super hot. However, it is not innovative in any way, and is slightly trashy.

Advantage: Brigitte Bardot
---
Round 3

Side boob is an important element in any sexy woman's arsenal. Brigitte Bardot did rock a very nice side boob in this classic picture.

Megan Fox double side boob all the way! Oh my God! Oh my God! WHOOO! Oh wow look at that! Full on double side boob all the way! What does this mean?

Advantage: Megan Fox
---
Round 4

What a bikini? Yes even back in the 50's and 60's Brigitte Bardot rocked them. Her body is flawless and she liked to show it off. However I can not help but feel those bottoms are too bulky.

Megan Fox in a tiny tight pink bikini. It doesn't get much better than that right? Wrong, she could also be about to give fellatio to an ice cube.

Advantage: Megan Fox
---
Round 5

When Brigitte Bardot was feeling sexy she would wear a see through shirt and a feather boa.

When Megan Fox is feeling sexy she pulls down her panties to show you a tattoo of her boyfriend's name.

Advantage: Brigitte Bardot
---
Round 6

Brigitte Bardot had a respectable nice tight round ass. Admittedly it was nothing spectacular, but Brigitte was French so she almost certainly did enjoy anal.

Megan Fox also does not have a particularly impressive ass, but she is almost certainly to stuck up to enjoy a good backdoor banging.

Advantage: Brigitte Bardot
---
And the winner is Brigitte Bardot! Though Megan Fox is a once in a generation hotness talent she is no match for Brigitte who is one of the sexiest women to ever walk Allah's green earth. Let us celebrate Brigitte Bardot's victory with some naked pictures of her here, here, and here.