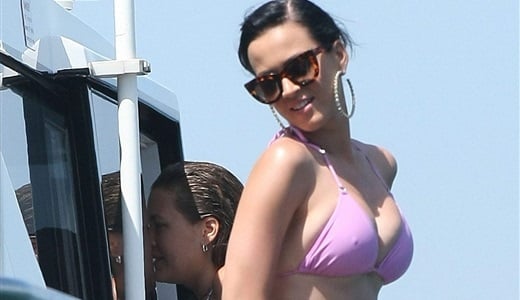 ---
Katy Perry takes the phrase "down under" too literal, as she airs out her stinking barren cock box while in a tight bikini in the photos below from Sydney, Australia.
Clearly Katy Perry is enjoying her time spreading her legs in Australia, as her hard nipples are visible through her pinkish purple bikini top in many of these photos. It is just a shame that one of Australia's numerous dangerously deadly wildlife did not viciously attack Katy for this barren display of sluttery.
Yes nothing would have been more fitting than if a dingo leaped from water, and savagely gnawed off Katy Perry's lady bits as she flaunted them on the edge of this boat. Hell even a koala pummeling Katy with a stick of bamboo would have been a welcome (not to mention adorable) sight.