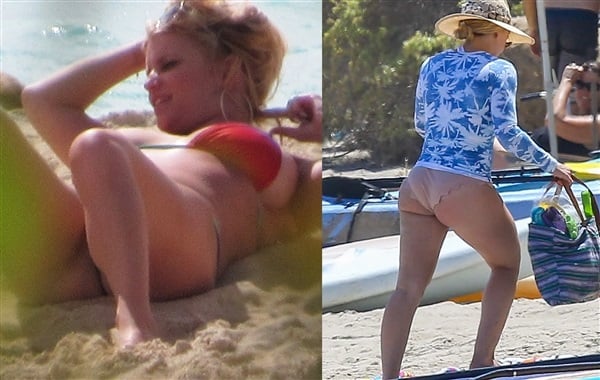 ---
Jessica Simpson shows off her massive bulbous boobies while Hilary Duff showcases her meaty thighs and thick booty chicks in the MILF (Mother I'd Like to Flog) bikini pics below.
First up in this MILF bikini battle we have Jessica Simpson who lays around on the beach with her engorged udders spilling out of her bikini top.
In response to Jessica's challenge, Hilary Duff also takes to the beach in a bikini and flaunts her shapely fat ass in the photos below.
Of course it is completely subjective to say who won this MILF bikini battle between Jessica Simpson and Hilary Duff. For if one were in need of an additional nurse maid for their litter of future Jihadist babies then Jessica and her bulbous milk wagons are the clear winners. However, if one were looking for a woman to till the fields by pulling the plow then Hilary and her powerful legs and rump are obviously the winners.
The only thing that can be said for certain is that since neither Jessica nor Hilary is being put to good use by a Muslim man then both of them are complete and utter losers, and they will burn in the hellfire for all eternity for squandering their Allah given talents.